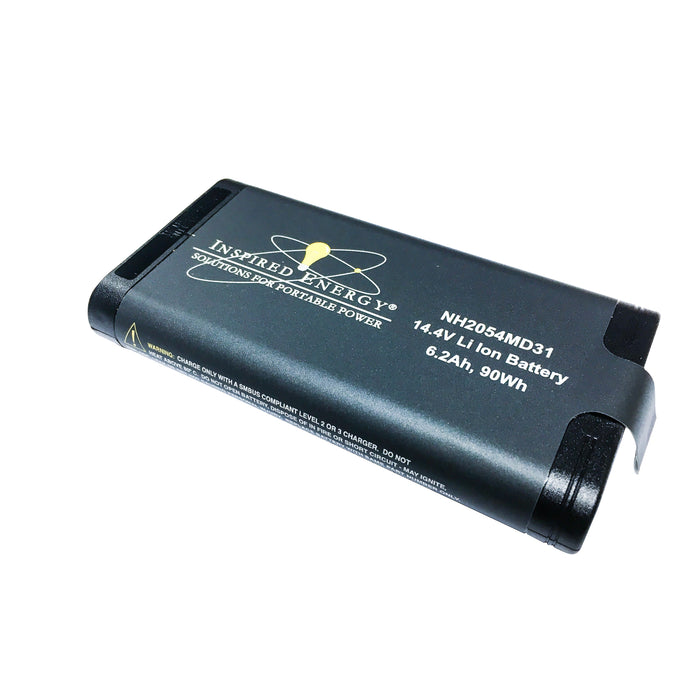 Product Overview 
This replacement battery will power an instrument for approximately 1 hour.
The main purpose of the battery is to keep the instrument running in the event of a main electrical power failure, or to allow an instrument to be moved to a different location without the need for powering down or startup stabilization time.
This item should be used by appropriately trained personnel in accordance with the instructions provided in the instrument's user guide.
Product Information
Li-Ion

 

rechargeable battery (8 Li-Ion 18650 cells / 4S2P array)
Fuel Gauge -

Integrated "Always-on" 5-bar LCD

Voltage - Nominal 14.4 V, Maximum 16.8 V, Cutoff 9.6 V
Capacity/Energy -  6.8 Ah / 98 Wh
Dimensions - H 23 mm, W 79 mm, L 153 mm
Weight - 434 g 
Equivalent LI Content - 

≤8 g
Do not use battery power to power the instrument on. This can significantly reduce the life of the battery. In addition, the instrument will not reach correct temperatures and at startup will display a warning 'starting on battery power, heaters disabled'. 
Use the internal battery only when the instrument is already at its operating temperature and is displaying the No Alarm-Ready message.
Applicable Product Range 
Itemiser 4DX, Itemiser 4DN
Product Hazmat Information
This kit contains items classified as hazmat materials and is therefore classified as hazardous for shipment and is subject to an additional freight surcharge. Hazmat items requiring special shipping and handling may need to be shipped separately from the order.