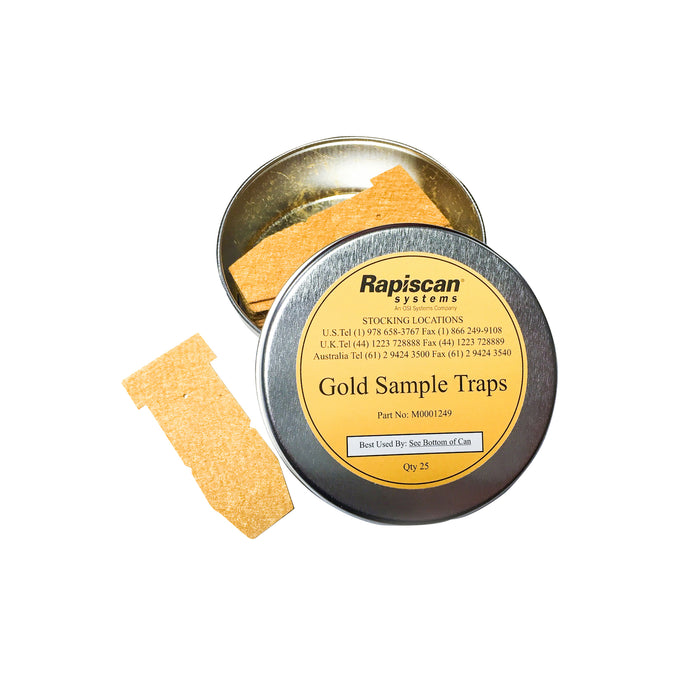 Product Overview
These sample traps are for use with the optional hand vacuum accessory, used with the Itemiser 3, to collect trace particles from a surface or object of interest. The trap can collect these trace particles even if they are embedded in the surface. 
You can use a gold sample trap for up to 10 sampling events, as long as none of the events results in an alarm. 
If a sample trap causes an alarm, or if it is dirty, torn, wet, or otherwise damaged, discard it and resume sampling with a clean trap. 
This item should be used by appropriately trained personnel in accordance with the instructions provided in the instrument's user guide.
Rapiscan Systems recommends that you always maintain an adequate supply of consumables and routine/as-needed maintenance parts in order to ensure uninterrupted operation of your instrument.
Product Information
Contains

25 gold sample traps

Shipped in a sealed container and foil wrapped protective package
Identified with a '+' cutout
Manufactured from lightweight polyimide fibreboard
12 month shelf life from shipment date on the bottom of each pack

Assumes traps are stored in a cool, dry place to maintain their effectiveness (maximum of 24 degrees C) 
Applicable Product Range
Itemiser 3
Itemiser 3E - Gold sample traps can be used with the Itemiser 3E but ONLY in conjunction with a Drugs Test Kit - K1000054.