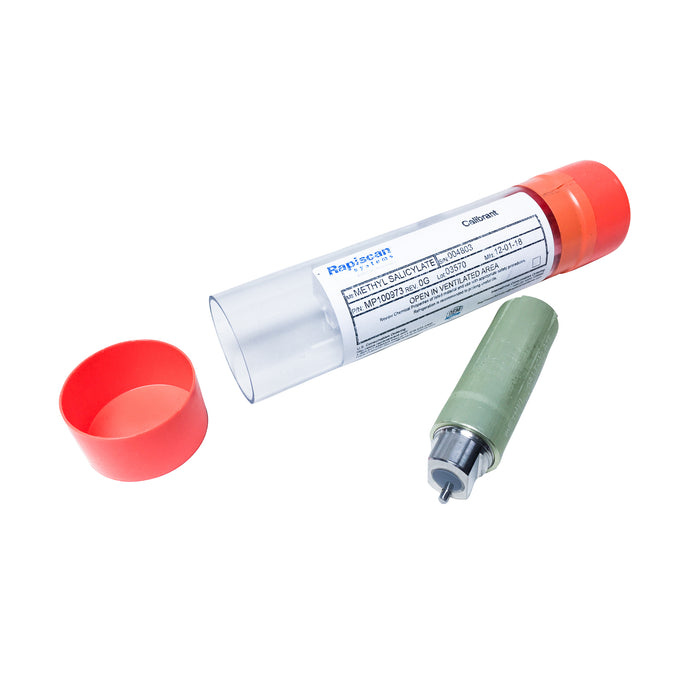 Calibrant, Internal, Methyl Salicylate
Product Overview
This calibrant tube is stored inside the instruments calibrant chamber located on the rear of the instrument (identified with a 'C'). The instrument uses the calibrant as part of the automatic internal calibration process and it is required for correct instrument operation.
This item should be checked/replaced by appropriately trained personnel in accordance with the instructions provided in the instrument's user guide.
Rapiscan Systems recommends that you always maintain an adequate supply of consumables and routine/as-needed maintenance parts in order to ensure uninterrupted operation of your instrument.
Product Information
Contains Methyl Salicylate (13 grams)
Dimensions - 91.9 mm x 25.40 mm (L x Dia)
Product life - approximately 5 years in the instruments chamber

Assumes instrument location is room temperature (20-26oC)
Assumes operating storage temp of ~45o

C
Shelf Life (calculated) - Indefinite

Assumes plugs or tapes have not been removed
Assumes stored at room temperature 

(20-26

o

C)
Ships in a sealed container (L 177.8 mm x Dia 44.45 mm) which also contains

1 packet of Silica Gel (moisture absorbtion)
1 packet of Activated Carbon (odor control)
Applicable Product Range 
Itemiser 4DX, Itemiser 4DN, Itemiser 5X