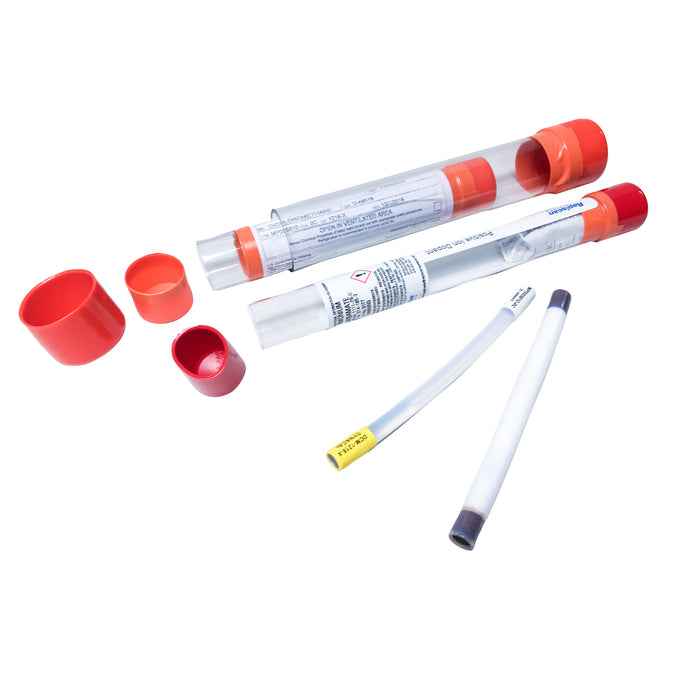 Product Overview 
This kit provides both the negative and positive dopants required for an instrument in any operational mode (Explosives, Narcotics, Optimized).
While both dopants are not necessarily required for single operational modes, Rapiscan Systems recommends both dopants are installed for ease of calibration and to ensure detection of substances across both spectrum's.
The dopant tubes are stored inside the instruments dopant chamber located on the rear of the instrument. The dopant is an integral part of the instrument and is required for correct instrument operation. 
These items should be checked/replaced by appropriately trained personnel in accordance with the instructions provided in the instrument's user guide.
Rapiscan Systems recommends that you always maintain an adequate supply of consumables and routine/as-needed maintenance parts in order to ensure uninterrupted operation of your instrument.
Product Information
MP035087 - Dopant, Positive (Qty 1)
MP005810 - Dopant, Negative (Qty 1)
Please see individual part number descriptions for further product information.
If you are removing replacement dopants from a  freezer, allow 30 minutes for them to reach room temperature before installing them. After installing new dopants, allow 2 hours for the substance to permeate the instrument before resuming operations.
Applicable Product Range 
Itemiser 3, Itemiser 3e, Itemiser DX, MobileTrace (all models), Hardened MobileTrace, Entryscan
Product Hazmat Information
This product contains items classified as hazmat materials and is therefore classified as hazardous for shipment and is subject to an additional freight surcharge. Hazmat items requiring special shipping and handling may need to be shipped separately from the order.